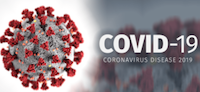 From the HRSA HIV/AIDS Bureau Bulletin - May 5, 2020 - The Health Resources and Services Administration's HIV/AIDS Bureau (HRSA HAB) appreciates everything our Ryan White HIV/AIDS Program recipients, subrecipients, and stakeholders are doing to address the COVID-19 public health emergency, particularly among people with HIV and the nation's most vulnerable populations.
Latest News
FY 2020 CARES Act Funding- New Flexibilities 
On April 30, HRSA HAB announced greater flexibilities for the FY 2020 Coronavirus Aid, Relief and Economic Security (CARES) Act funding as it pertains to Ryan White HIV/AIDS Program (RWHAP) provisions and funding limitations.
It is our hope that these funding flexibilities allow RWHAP recipients to implement the FY 2020 CARES Act funding in a timely manner to meet the emergent needs of your jurisdictions. Learn more.
4/30 HRSA HAB All Grant Recipient Call Recording Available
On April 30, HRSA HAB hosted the third All Grant Recipient Call to provide important information on the CARES Act funding awards for Ryan White HIV/AIDS Program recipients. Listen to the call recording.
Post-Award Reporting Requirements
New information is now available about post-award reporting requirements for RWHAP FY 2020 CARES Act funding recipients and subrecipients. HRSA HAB requested approval from OMB to create a new monthly, aggregate data report to collect information on CARES Act funded activities. This module will be required for all providers (regardless of whether they are recipients or subrecipient) who receive FY 2020 CARES Act funding. For more information.
Update on the 2020 National Ryan White Conference on HIV Care & Treatment
In light of the coronavirus disease 2019 (COVID-19) pandemic, HRSA's HIV/AIDS Bureau is making arrangements to host the 2020 National Ryan White Conference on HIV Care and Treatment virtually. This conference is currently scheduled for August 11-14, 2020 in Washington, DC.
Your health, well-being, and safety are the top priority for the HIV/AIDS Bureau. While there is not yet sufficient data on whether people with HIV are more susceptible or more likely to develop severe disease, we must take every precaution to reduce any potential risk to the vulnerable population the Ryan White HIV/AIDS Program serves. 
The HIV/AIDS Bureau knows many of the registered attendees and speakers are working on the front lines of the COVID-19 response around the world.  This virtual format will allow those on the front line to still have an opportunity to attend the conference and not take them away from the communities they are working hard to serve. 
If the conference is hosted virtually, all Marriott Marquis Washington, DC hotel reservations will be cancelled on behalf of registered attendees.  Recipients and stakeholders will not need to request a hotel reservation cancellation. Please stay tuned for more information.
Updated COVID-19 FAQs
We continually update our Ryan White HIV/AIDS Program COVID-19 Frequently Asked Questions (FAQs) webpage, including new and updated questions on:
RWHAP grant requirements waived under the FY 2020 CARES Act funding
Using FY 2020 CARES Act funding to purchase and administer COVID-19 tests
Using program income to pay for COVID-19 allowable activities
COVID-19 Resources
HRSA HAB will send additional bulletins as we have new information available.